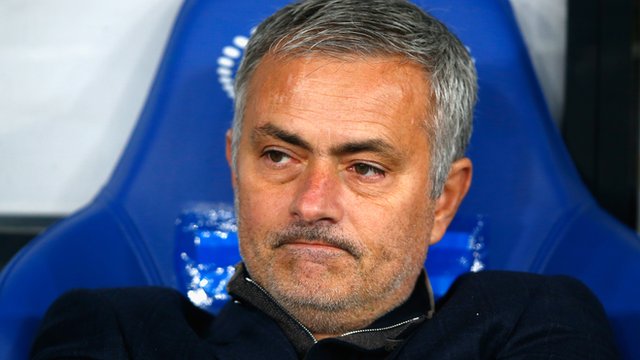 Jose Mourinho has been fined £40,000 and given a one match stadium ban by the FA as a result of his language and behaviour in the defeat to West Ham at Upton Park on the 24th of October.
He has already been fined £50,000 earlier in the season for comments he made on the 3rd of October following a home defeat to Southampton.
The Chelsea boss currently faces the toughest test of his managerial career so far.
His side already trail league leaders Manchester City by 14 points and sit in 15th place, virtually ending their hopes of retaining their Premier League crown after just eleven games.
The defeat to Liverpool on Saturday has heaped even more pressure on Mourinho as his side lost their sixth game of the campaign. While Jurgen Klopp's Liverpool earned all the plaudits, it was the Chelsea players who allowed the Reds to embarrass them.
Aside from the team's dreadful form, the reported unrest amongst the big names at Stamford Bridge emerges as a main concern. Rumours linking Eden Hazard to a move to one of Europe's elite refuse to go away while important players from last year in the likes of John Terry, Cesc Fabregas, Nemanja Matic and Diego Costa look increasingly unhappy.
There is a striking lack of fluency amongst the players at the moment, with nobody looking at all assured in what they do on the pitch. There proceeds to be a severe and worrying lack of confidence throughout the side in addition to the shortage of offensive quality being shown by players considered to be amongst the world's best.
John Terry has suffered this season and his age is really beginning to show. For the first time, he looks inferior to the physical challenge posed by his Premier League rivals. The pace and movement of opponents is finally becoming a serious issue for a player that could usually combat these personal weaknesses with expert positional play. His 27 clearances so far compared to the 65 he had made at this point last season reinforces his struggle.
At the top end of the pitch, Eden Hazard is far from the unstoppable winger that earned him Premier League player of the year last season. He, above anyone, has gone missing in games and is visibly lacking in self-belief, though this hasn't stopped people from wrongly criticising the manager from dropping the out of form Belgian.
Chelsea's weak defensive displays come as something of a surprise this season given Mourinho's tendency last season to mastermind wins with a solid foundation at the back and in central midfield. Nemanja Matic has been hopelessly ineffective compared to the nuisance he was for attackers in his first season. Beside him, Cesc Fabergas has, unsurprisingly, offered little to compensate for Matic's disappointing contributions, while the Spaniard has also failed to make any kind of attacking impact, having only made one assist so far this season compared to the nine he had already made at this point last time round.
The recent defeat away to West Ham highlighted the tension around the club as the reigning Champions failed to keep their discipline when Coach Silvino Louro and midfielder Nemanja Matic were sent off. Mourinho, himself, was also sent to the stands at half time, topping off a horror show that truly exposed the troubled situation at the club.
The drastic downfall could have never been predicted having seen the team dominate England's top league over 2014-2015.
Mourinho's downfall seems to have been triggered by the opening day draw against Swansea in which he propelled criticism towards club doctor Eva Carneiro following her decision to give Eden Hazard treatment in the dying minutes of the game, leaving Chelsea short in defence. Doctor Carneiro consequently left her role at the club and has announced plans to take legal action against both Mourinho and the club following the incident. Pressure both on and off the pitch.
There is certainly something different about 'the special one' this season. He is no longer the charismatic and confident man that makes him both loved and hated by football fans. Even he seems to be getting tired of his constant moaning and for the first time he looks stressed. While he is disliked by many, he is also appreciated by many however he is dangerously close to becoming a boring and lamenting man with very little shine.
Does he deserve a second chance?
Many have been quick to call for the manager's head however if anyone has proven he is capable of taking on the task then surely it has to be him.
At this moment in time, Roman Abramovich would be foolish to sack the manager as there is no clear replacement available, if there were even any managers good enough to replace Jose Mourinho.
Carlo Ancelotti's name has already been thrown in the mix however he could not promise to bring an instant transformation. Mourinho must be given more time to turn things around. It still remains to be seen how true reports are suggesting he has lost the support of the players but what is clear is that the majority of the Chelsea fans continue to back him, which is vital.
It is so important that he is given the money to spend in the January transfer window as Chelsea's summer transfer dealings were extremely poor by their standards. Signing an out of form and low in confidence Radamel Falcao was never going to challenge or better Diego Costa's role at the club. They also have few alternatives to the various central defensive partnerships that have tried and failed. The whole set up needs freshening up and needs to be experimented with more.
Jose Mourinho's track record speaks for itself- 21 trophies over a career where he has managed Chelsea, Real Madrid, Inter Milan and Porto. It is no overnight job at Chelsea, but he is the man to help them back to success.